Registrations have closed.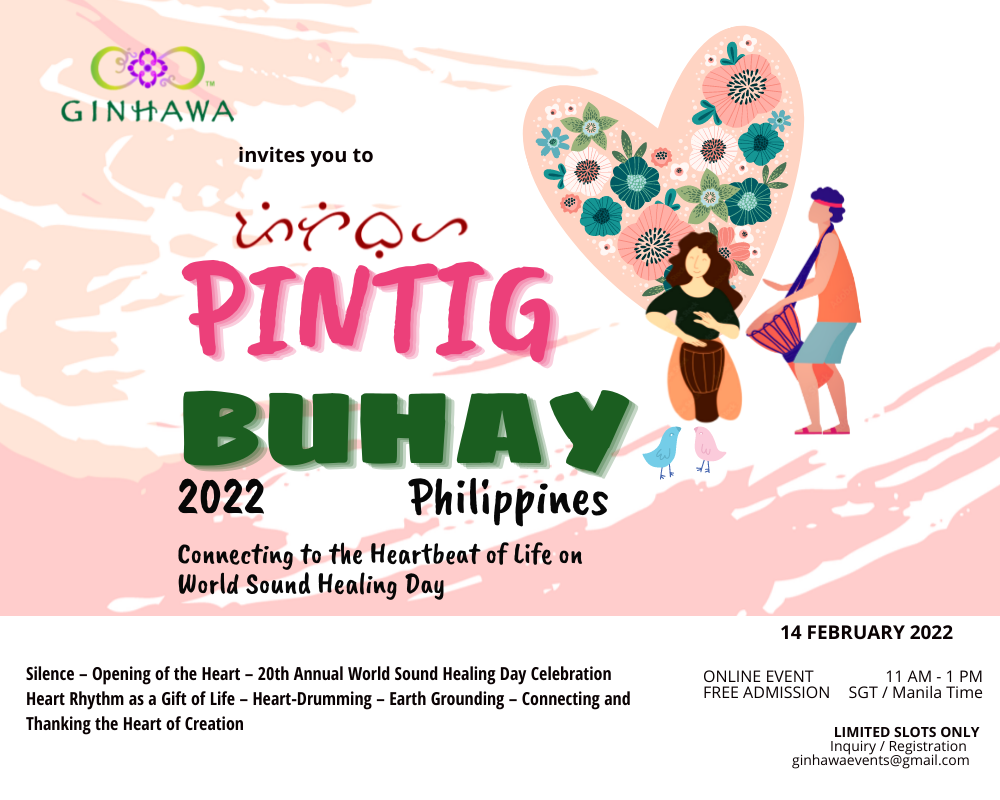 PINTIG-BUHAY: Connecting to the Heartbeat of Life
478
478 people viewed this event.
Join the GINHAWA PINTIG BUHAY event on February 14.
Connecting to the heartbeat of Life
on World Sound Healing Day 2022.
Pintig-Buhay (Tagalog for Heartbeat or Lifebeat and Life) is an opportunity to "pause" and be present to the heart as it is connected to the body, mind, and spirit.
Many of us are facing numerous challenges these days – relational, financial, mental, social, etc. Our hearts can feel all of these, beat by beat. Given our many preoccupations, we can hardly take the time to take care of our heart and our psycho-emotional health.
GINHAWA would like to invite you to a space that connects you to the life-nourishing rhythm of your heart, through "Pintig-Buhay, 2022".
Through this event that is focused on Heart-Wellbeing, Rhythm, and Love, we intend to foster personal health that can also nurture social, relational, community well-being.
——-
The goals of the event are:
1. To give a space for the participants to have a "date" with their hearts. (We go beyond the concept of a romantic date. But to give importance to a very important part of ourselves – which is the heart).
2. To let the participants appreciate the importance of the heart in the overall well-being of the human person.
3. To let the participants experience an initial link between the health of the person with the health of the environment.
4. Through the various activities that integrate music, sound, movement, art, and talk, the participants will have an opportunity to learn how to take care of their hearts.
5. To let the participants give and receive gratitude and love.
——-
DATE: February 14, 2022, Monday
VENUE: Online Philippine Event
TIME: 11:00 AM to 1:00 PM, Manila/Philippine Time / OPEN TO PUBLIC
FEE: FREE Admission.
PLATFORM: Via Zoom
——-
You may bring a drum, rain stick, shaker, or any other handy musical instrument for the community music-making part of the event. Have a paper handy and any available colored pens, pencils, or crayons.
——-
Register:
https://forms.gle/K2oUqBJaBLJWuf997 or via email: ginhawaevents@gmail.com
PINTIG-BUHAY(c)GINHAWA